TACOMO: Transatlantic Cowgirl Mobilities
Stefanie Schäfer, Marie-Skłodowska-Curie Fellow
TACOMO studies the performances of cowgirls and female sharpshooters at Buffalo Bill's Wild West in Austria and Germany at the turn of the 20th century and their contribution to the formation of European Western myths and mobility regimes. It integrates their showwomanship in contemporary popular culture and explores how they built the figure of the cowgirl.
Stefanie Schäfer: About me
I am a scholar of North American Studies interested in the nexus between Literary, Feminist and Gender Studies, Visual and Popular Culture, and Mobility Studies. I hold a PhD in English (Heidelberg, 2009) and a venia legendi in North American Literature and Culture (Jena, 2017) and have worked as visiting professor of American Studies at Erlangen-Nürnberg (2018/19 and 2022) and Augsburg (2020), Germany.
My interest in cowgirls stems from my village girlhood (enriched by some riding and no shooting!) and from excursions to Rodeo and Western spectacles in Canada and the US. My research clusters around figurations of the national. Next to Western performances, this also includes figures linked to the nation state and to politics, such as First Ladies and Uncle Sam. "Yankee Yarns", my second book (habilitation), was published in 2021 with Edinburgh University Press's Critical Studies in Atlantic Literatures and Cultures Series.
...follow me on Twitter @SchaeferStef
International Conference: Ladies in Arms: Representations of Shooting Women in Contemporary Popular Culture, Oct 2022 @uvienna
..coming soon!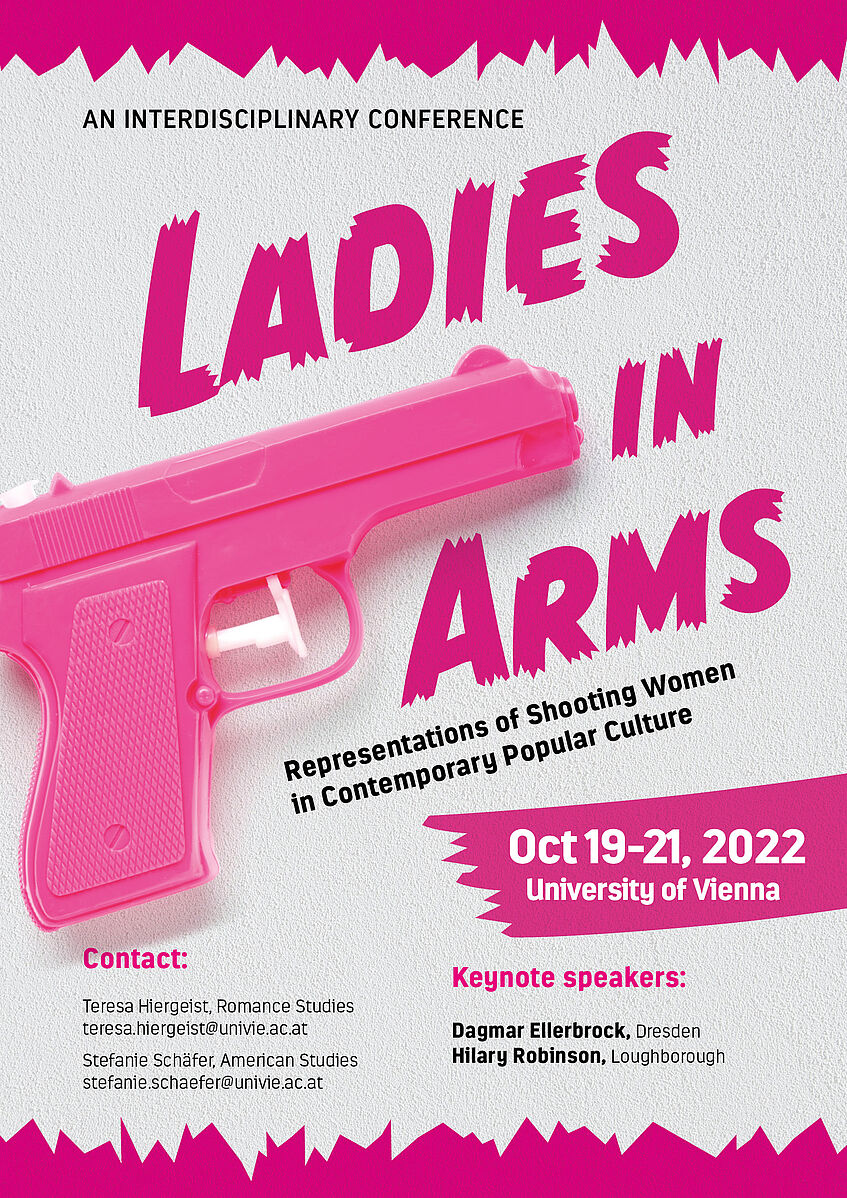 Affiliations and academic networks
Executive Director, Centre for Canadian Studies, Uni Vienna (https://canada.univie.ac.at/)
Interdisciplinary research platform Mobile Cultures and Societies, Vienna (https://mobilecultures.univie.ac.at/)
The Global Sentimentality Project, FAU Erlangen-Nuremberg (https://www.sentimental.phil.fau.de/)
Deutsche Gesellschaft für Amerikastudien (DGfA)
Gesellschaft für Kanada-Studien (GKS)
Deutscher Anglistenverband (DAV)
BAA (Bayerische Amerika-Akademie) Munich
C19 The Society of 19th-Century Americanists
Activities: Conference talks
"I must dress in costly materials": On First Lady Fashion and the Sentimental Labors of American Womanhood. Workshop, "Civil Sentimentalism in the Americas", Nov 9-11 2022, LMU München.
"Utterly Inconsolable! Mary Todd Lincoln, FLOTUS, and the Affective Labors of National Mourning." Intercontinental Crosscurrents "Transatlantic Women at Work: Service in the Long Nineteenth Century": Virtual Conversations (June through July 2021).
"Killjoy Comedy? Feminism, Affect, Cringe." International Symposium "Painful Laughter: Media and Politics in the Age of Cringe. Hannover, October 14-16, 2020.
"History reloaded? Eternal girlhood in the afterlives of Annie Oakley." Guest lecture, Mainz, January 31, 2020.
"Cowboys all! Settler colonialism and the invention of tradition at the Western spectacle." Guest lecture, Mainz, January 30, 2020.
"Between "Flintenweib" and "Fräuleinwunder": Annie Oakley and Buffalo Bill's Wild West in Germany and Austria." Western Historical Association Conference 2019, Las Vegas, October 16-19, 2019.
Activities: Publications (recent and forthcoming)
monograph: Yankee Yarns: Storytelling and the Invention of the National Body in 19th-Century US Culture. Edinburgh University Press 2021.
"Jackie (Pablo Larraín, 2016)." The Lexicon of Global Melodrama. Ed. Heike Paul, Sarah Marak, Katharina Gerund and Marius Henderson. Bielefeld: transcript 2022. 353-356
"The Donald, FLOTUS, and the Gendered Labors of Celebrity Politics at 1600, Pennsylvania Avenue." Amerikastudien/American Studies, special issue "Common Grounds? Transatlantic Perspectives on the State of American Democracy", ed. Cedric Essi, Heike Paul, and Boris Vormann, 66.1 (2021): 302-307.
"Geraldine Brooks." Blackwell Encyclopedia of Contemporary American Fiction, 1980-2020, ed. Patrick O'Donnell, Stephen Burn, und Lesley Larkin. London: Wiley-Blackwell 2022.
"Washington Irving." De Gruyter Handbook of the American Short Story. Ed. Erik Redling and Oliver Scheiding. Berlin: De Gruyter 2022: 103-118.
"Nasts nationales Bildertheater. Eine Betrachtung des Kinderbuchs Uncle Sam's Panorama of Rip van Winkle and Yankee Doodle (1875)." Thomas Nast: Karikaturist zwischen Kunst und Kritik. Ed. Hubert Lehmann, Landau, VEP-Verlag, 2021. 327-344.
"Funny Men. An Introduction in Three Jokes." Anglistik 31.2 (2020): 69-76. (with Wieland Schwanebeck).
"Esi Edugyan: Washington Black". in: Kindlers Neues Literaturlexikon, Ed. Heinz Ludwig Arnold. 3., rev.ed., Stuttgart [et al.]: Metzler, 2009, online update 2020.
"Knots and Knowledges: The Canadian West, Settler Colonial Intimacies, and Aritha Van Herk's Calgary Stampede." Zeitschrift für Kanada-Studien ZKS 70 (2020): 163-178.