"Life-Writing in Poetry": A guest lecture by British poet and author Ruth Padel
Event report - 14th January 2021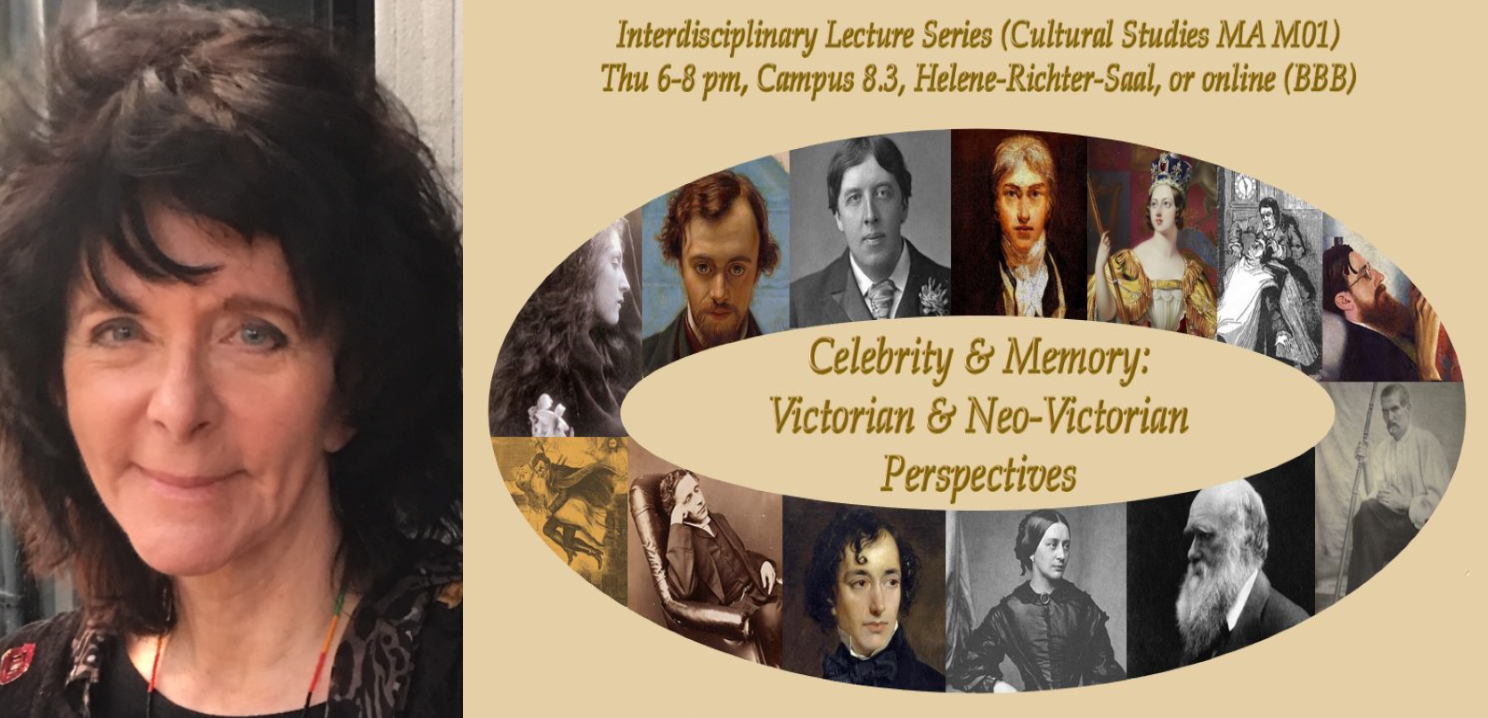 This winter term, the Department of English and American Studies offered a distinguished lecture series as part of the Cultural Studies MA curriculum, entitled "Celebrity & Memory: Victorian & Neo-Victorian Perspectives" and organised by Dr. Sandra Mayer, Univ.-Prof. Dr. Sylvia Mieszkowski and Univ.-Prof. Dr. Monika Pietrzak-Franger. Every Thursday evening, international Victorian and Neo-Victorian scholars and writers of (bio-)fiction and/or poetry have shared their expertise on a broad range of subjects, in the form of online lectures as well as live Q&A sessions.

This week's guest speaker: Ruth Padel
Among the many scholars who agreed to take part in this lecture series were a few authors of fiction too, such as Patricia Duncker, and on January 14th, the organisers were thrilled and honoured to welcome critically-acclaimed British poet and author Ruth Padel as a speaker in this lecture series.
Ruth Padel has published thirteen poetry collections, as well as a novel, non-fiction works and literary criticism. She has received numerous awards for her works, winning for instance the UK National Poetry Competition, and her poetry collections have been consistently shortlisted for all the major UK prizes. She was also appointed to several prestigious positions throughout her career, for instance that of first Writer in Residence at the Royal Opera House, Covent Garden in 2014. She is currently Professor of Poetry at King's College London and a Fellow of the Royal Society of Literature.
In her lecture entitled "Life-Writing in Poetry – Two Biographies of the Nineteenth Century", Ruth Padel focussed on two of her volumes of biographical poetry: the renowned Darwin: A Life in Poems (2009) and the recently published Beethoven Variations: Poems on a Life (2020). Presenting her own personal connections to these two celebrities of the nineteenth century, Ruth Padel took us on a journey through her writing process and the creation of her poems – in the footsteps of her ancestor, famous British naturalist, geologist and biologist Charles Darwin, guiding us through the role played by his autobiography which Padel's own grandmother edited, as well as personal letters; and through her own personal connection with music and with Ludwig van Beethoven's work, as inspiration for her writing. Her poems in Beethoven Variations have been described as "vividly beautiful, sparked by sonatas, symphonies and songs" (Andrea Valentino, BBC Culture), and Darwin: A Life in Poems as "a new species of biography" (Richard Holmes, Guardian) and a "publishing triumph" (Peter Forbes, Independent). Reading selected poems from these greatly praised collections, Padel considered what it means to write about a nineteenth-century celebrity in contemporary poetry and reflected on the potential relationship between poetry and life writing.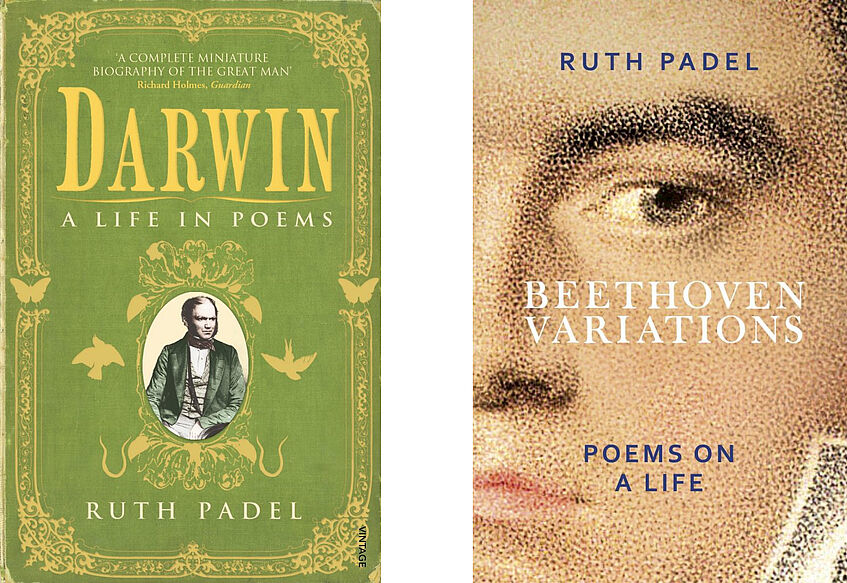 Discussing with the author
After this fascinating lecture, a lively and dynamic exchange, inspiring and sometimes touching, took place online during a live Q&A session with Ruth Padel. A few illustrious guests joined us for this event too: Mr Leigh Turner CMG, Her Majesty's Ambassador to the Republic of Austria and UK Permanent Representative to the United Nations in Vienna, did us the honour of opening the Q&A session with a few words on the (now more than ever) precious collaboration between the United Kingdom and European institutions such as the University of Vienna in terms of knowledge production and exchange. We were also joined by Martin Gilbert, director of the British Council Austria, and by Dr. Julia Lajta-Novak, director of the Vienna Lit literature society, who introduced our guest and hosted the session.
In accordance with the thematic thread of the lecture series, Ruth Padel discussed the idea of 'celebrity' and the part this played in her work: she explained that she did not choose to write about Darwin or Beethoven because they were celebrities of the nineteenth century, but rather because of her own personal connections with these two men – familial ties in the case of Darwin, and an intimate sentimental relationship with Beethoven's music rooted in her family history. When asked about her writing process, Padel explained that she does not decide what precisely to write about at first. Instead of being guided by factual research, she chooses to read about the people themselves, immersing herself in the personal and the material, and letting herself be inspired by the person's story until their image grows out of the words she puts onto the page. It is the encounters, the journey, the emotions and the life of the person itself that inspire her to write, which is why she turned to biographical poetry for a few of her collections. Poetry, she claims, is the ideal medium for life writing: its expression, emotions, memories, feelings bring it closer to life itself.
In Darwin: A Life in Poems and Beethoven Variations: Poems on a Life, Padel evokes the life of these two celebrated and well-remembered men by intertwining biographical information, direct quotations, personal letters and diaries with imagery, hindsight and emotion conveyed by her own voice. She draws on scientific reports in the case of Darwin, and structures her Beethoven collection in four movements, like a symphony. Her register, "versatile and ventriloquial" (Irish Times), blends historical sources and poetic voice masterfully.
When asked about the issue of the accessibility of the past and the potential lack of material traces, Padel smiled, answering that as a classically-trained scholar with a PhD in Ancient Greek Literature, she was rather overwhelmed by how much was available about Darwin and Beethoven. This abundance allowed her to trace the more personal material that inspires her. Being in the presence of letters written by the historical individual, of material traces, sparks something in her: for Ruth Padel, like for many of us, there is something of a need to stand in the physical space in which the artist stood. What other reason could there be, she asks, for museums to remain popular, when people could simply see a high-resolution photograph of a painting? Or for the Beethoven exhibition at the Kunsthistorisches Museum in Vienna to display the wooden floor from the house in which Beethoven died, as His Excellency The British Ambassador pointed out? The materiality of the traces that are left, rather than the hard facts, are what nurtured Ruth Padel's writing process in the case of the two volumes of biographical poetry she kindly agreed to discuss with us.

All in all, with the many enthusiastic questions posed by students and colleagues alike, interspersed with Padel's reading of excerpts of her own poetry, time flew by unnoticed, and we left the scheduled end of the session well behind. One of our participants, Marion Neubauer, described this event as "a definite highlight of my time as a student […] an invaluable experience" which "proved to be highly inspiring – on an academic as well as on an artistic level!"; and the event seems perfectly summed up by the words of another participant, Irene Spangenberg: "What happens when you combine Darwin and Beethoven? Science and music evolve into poetry."
In 2015, Ruth Padel wrote in The Guardian that "poetry connects". It is certainly moments like this that remind us of the need to "connect" and foster intellectual and cultural exchanges, across both disciplinary and geographical boundaries.