Welcome to the home of VIEWS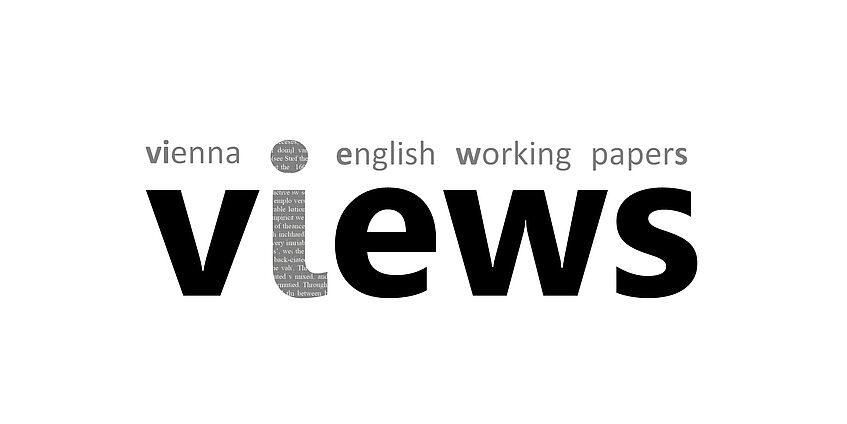 VIEWS, the English Department's online linguistics publication, is an academic journal that promotes dialogue among Viennese and international researchers on all aspects relevant to the study of English. Its main agenda is to encourage the exchange of ideas between scholars with different research interests and from different theoretical camps or academic communities.
VIEWS publishes papers by members of the English Department and their collaborators.
ISSN: 2074-9864 (Online)
Editors: Theresa Matzinger, Felix Berner, Matthias Mittendorfer
Since VIEWS was first established in 1992, it has generated genuinely stimulating discussions and controversies and has attracted high quality papers, not only from the department's own staff but from members of the international research community, such as Alfred Bammesberger, Olga Fischer, Raymond Hickey, Jennifer Jenkins, Roger Lass or Laura Wright, to name but a few. (For a complete list of contributors click here.)
In order to maintain its interactive and integrative nature, the primary criterion which VIEWS applies in evaluating submitted contributions is their accessibility to an educated non-specialist readership. Papers submitted for publication are normally read and discussed by all local members of the editorial board, with authors invited to participate in the discussions as far as possible. In all cases, authors are provided with the feedback generated in editorial discussion sessions.
For further information, please look at the more detailed statement of our editorial policy.
While originally a print and online publication, VIEWS has turned to online publishing in 2012, so that individual articles are now published throughout the year. Past issues are made available through our archive, and you are invited to read and/or download them freely.

If you would like to contribute to VIEWS, you can do so by mail, fax or e-mail under the following address:
[Note to authors: Please use the VIEWS template, format your submissions according to our Style Sheet and add an abstract of 250 words (maximum) followed by 5 keywords.]

VIEWS c/o
Department of English, University of Vienna
Spitalgasse 2, Hof 8.3
1090 Wien
AUSTRIA
Fax.: + 43 1 4277 42499
e-mail: views.anglistik@univie.ac.at