News & Events
Current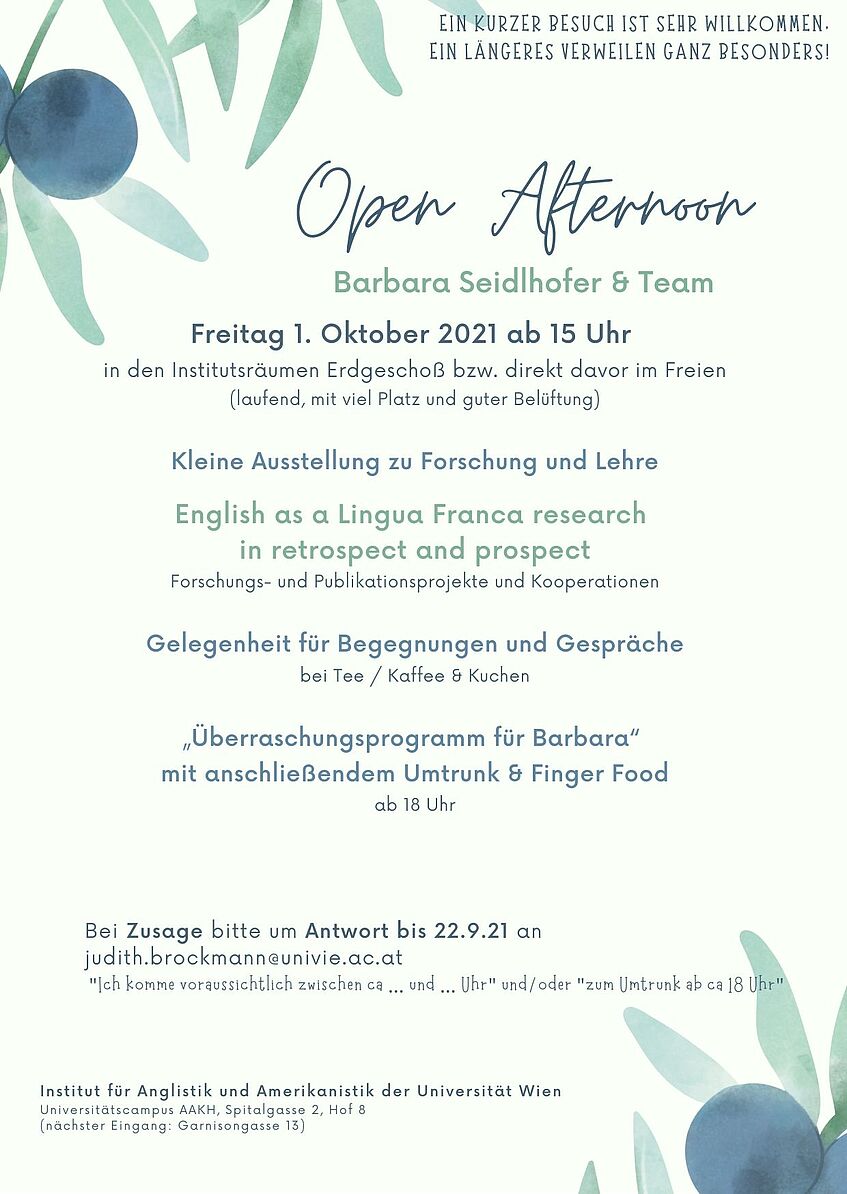 Open Afternoon: English as a Lingua Franca research in retrospect and prospect, 1st Oct 2021
Nachmittag der offenen Türen
Freitag 1. Oktober 2021 ab 15 Uhr
(laufend, mit viel Platz und guter Belüftung)
In den Institutsräumen Erdgeschoß bzw. direkt davor im Freien
am Institut für Anglistik und Amerikanistik der Universität Wien
Universitätscampus AAKH, Spitalgasse 2, Hof 8
(nächster Eingang: Garnisongasse 13)
Ein kurzer Besuch ist sehr willkommen, ein längeres Verweilen ganz besonders!
Upcoming
Webinar "Maintaining pronunciation intelligibility in international settings"
Building on her recently defended PhD research on (phonological) intelligibility in ELF communication, Veronika Thir is giving a SPLIS Webinar at the international TESOL organisation.
Time: October 6th, 12:00-13:00 (ET)
"Place": Zoom webinar room
More details on the event here
46th Austrian Linguistics Conference (ÖLT), 10th-12th December 2021
"Challenging linguistic concepts - a/in dialogue with ELF"
Members of our research group have submitted a workshop proposal to the 46th Österreichische Linguistik-Tagung (ÖLT) in Vienna.
More information on the 46th ÖLT is available now.
Past Events
AILA 2021, 15th - 20th August
"What's 'franca' about English as a lingua franca?"
Some members of our research group have organized a symposium at the AILA 2021 conference in Groningen, the Netherlands, for Thursday, 19th Aug, 14:30-18:00.
Follow the link and look for symposium Nr. 195. You can also check out the latest updates on the programme and announced presenters.
PhD defense on phonological intelligibility in ELF
On March 25, research group team member Veronika Thir has successfully defended her PhD thesis with the title

"Phonological intelligibility in ELF communication: the role of co-text and context"
Congratulations, Veronika!
IPrA Conference
From 27th June to 2nd July 2021 the 17th International Pragmatics Conference will be held in Winterthur, Switzerland.
More information about the conference and the International Pragmatics Association (IPrA) here.
YouthMediaLife Conference
ELF research group member Rino Bosso presented at the #YouthMediaLife Conference in March 2021.
His presentation "Developing intercultural communication strategies through Facebook exchanges: A longitudinal investigation"
contributed to the panel on "Virtual Exchange: Bridging the gap between formal and informal learning".

Furthermore, Rino contributed to the #YouthMediaLife Blog
VOICE CLARIAH - We want your feedback!
We have launched VOICE 3.0 Online BETA, a pre-release test version of the new VOICE web interface developed by the VOICE CLARIAH team.
We invite you to explore the new interface (e.g. try out new search, filter and style functions) and to give us feedback in order to support the final development of VOICE 3.0 Online, which we plan to release as an open-access corpus tool in summer 2021.
If you would like to participate and test VOICE 3.0 Online BETA, please contact us via https://voice-clariah.acdh.oeaw.ac.at/. Make sure you also sign up for the VOICE CLARIAH newsletter.
The aim of VOICE CLARIAH is to ensure the long-term availability of the Vienna-Oxford International Corpus of English (VOICE) by integrating VOICE into CLARIAH-AT infrastructure and to develop a new front-end interface for VOICE Online.
VOICE CLARIAH at the Austrian Academy of Sciences
In September 2020, Marie-Luise changed institutions and became a member of the Austrian Centre for Digital Humanities and Cultural Heritage (ACDH-CH) at the Austrian Academy of Sciences. There she holds a position as Elise-Richter-Research Fellow and is principal investigator of the ELF in TIGs and the VOICE CLARIAH project.